So as some of you who follow me on Facebook are aware, I'm dipping my toe back into the Marvel stream. DC is, frankly, just pissing me off. As much as I love indy titles, they aren't characters that I'm intimately familiar and passionate about. The storys are amazing to be sure, but they aren't characters I have HISTORY with. Sometimes that HISTORY adds to the experience.
So I decided to give up my hatred of Marvel and get back into the stream of things. So I JUST got 'Amazing X-Men #1' which is the story of the return of Nightcrawler (not a spoiler, he's on the freakin cover, calm down). Did I buy it for Nightcrawler? No.
I'm a loyal fan of very few Marvel characters, Firestar is one of them. So when I saw that Firestar was going to be on this team I figured, "Eh, what the hell? May as well give it a shot. I've never read X-Men anyways. Besides, I'll give me an excuse to listen to Corwin's show." (I support your efforts my friend, I just haven't read X-Men/Avengers so there was no need to listen. But I did listen to the first show. Quality layout my friend.)
It was pretty good. Supernatural + pirates + Firestar + McGuinness art = Pretty freakin cool. Now I don't know whats happening or why, but at least I'm in semi-familiar territory.
That being said, I'll be picking up this series for at LEAST the first arc to give it a shot. So I decided to open up to Marvel some more. Got the most recent previews.
Something that caught my eye? 'Avengers World #1'. No idea what this storyline will be doing or why, but WHY did I choose it? Same reason I chose 'Amazing X-Men'. A character I love is on the cover: Captain Universe. Plus Thor is in there and I'm a sucker for Thor stuff. So I'll give it a shot.
And then I saw the first Marvel TPB that caught my eye in awhile. Warlock by Jim Starlin: The Complete Collection TPB. Whoa. 70's Marvel? I'm willing if they're offering. No idea what I'm getting into, but I'm happy.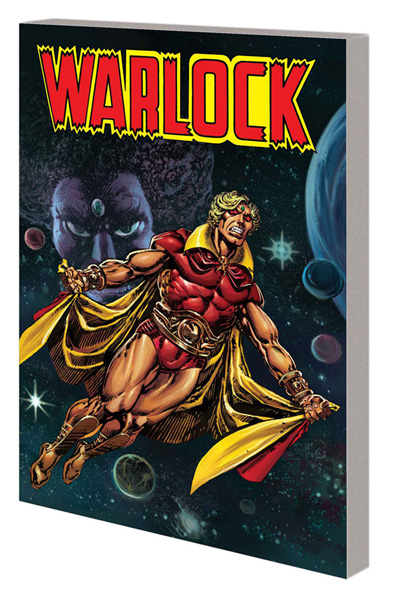 So that makes the Marvel I'm reading the following list:
New:
'Avengers World' by Hickman & Spencer
'The Amazing X-Men' by Aaron & McGuinness
Old:
Warlock by Jim Starlin: The Complete Collection TPB
That may not be much to you, but it's a heck of alot from ZERO. Why am I telling you all of this? Well, two reasons.
1) If DC is pissing you off, just give someone else a chance.
2) Marvel fans, fill me in on what I need to know going into 'Amazing X-Men' & 'Avengers World'. I'm not going to go find old stuff to catch up, may as well tell me point blank.
and...ok, a third reason...
3) Give Marvel junkies another place to talk on these boards (but you SHOULD check out Corwins EPIC show thread as well).
So...thoughts?